HARRY
Extraits du catalogue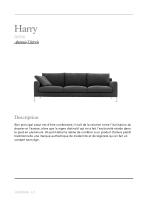 Description Son principal atout est d'être confortable; il naît de la relation entre l'inclination du dossier et l'assise, alors que le signe distinctif qui en a fait l'exclusivité réside dans le pied en aluminium. Un petit détail à même de conférer à un produit d'allure plutôt traditionnelle une marque authentique de modernité et de légèreté qui en fait un canapé sans âge.
Ouvrir le catalogue en page 1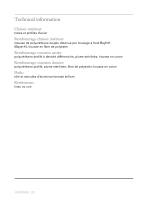 Technical information Châssis intérieur: tubes et profilés d'acier Rembourrage châssis intérieur: mousse de polyuréthane souple obtenue par moulage à froid Bayfit® (Bayer®), housse en fibre de polyester Rembourrage coussins assise: polyuréthane profilé à densité différenciée, plume stérilisée, housse en coton Rembourrage coussins dossier: polyuréthane profilé, plume stérilisée, fibre de polyester, housse en coton Pieds: tôle et extrudés d'aluminium brossé brillant Revêtement: tissu ou cuir 01/10/2018 - 2/3
Ouvrir le catalogue en page 2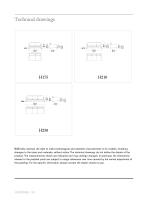 B&B Italia reserves the right to make technological and aesthetic improvements to its models, including changes to the sizes and materials, without notice. The technical drawings do not define the details of the product. The measurements shown are indicative and may undergo changes. In particular, the dimensions relevant to the padded parts are subject to usage tolérances over time caused by the normal adjustment of the padding. For the spécifie information, please contact the dealer closest to you.
Ouvrir le catalogue en page 3
Tous les catalogues et fiches techniques (PDF) B&B Italia

Catalogues archivés

Comparer jusqu'à 10 produits